The Aftermath of the Surrey Six Murder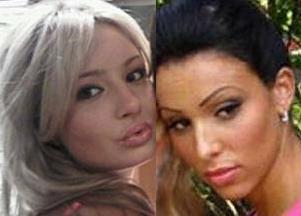 October 19 2007 four occupants of a condo in Surrey with ties to the Red Scorpions were murdered along with two innocent bystanders. Chris Mohan lived next door. He stepped out of his condo on the way to a basketball game and was shot dead by the shooters as a potential witness. Ed Schellenberg was a gas fireplace installer. He was at work installing a gas fireplace for the victims in the suit. He was also murdered at the scene. Michael and Corey Lal, Eddie Narong, Bartolomeo were the tenants of the suit who were murdered. All had criminal records for drug trafficking.
February 3rd 2008 There was a Public Safety Rally at Beer Creek Park on where they set doves free in memory of Chris and Ed. Eileen Mohan made a public appeal for a website to identify known gang members. This web site was created shortly thereafter in response to that public appeal.
May 31 2008 Chris' mother held a birthday mass for him on his birthday following his death.
September 2008 First annual Ed Schellenberg/Chris Mohan Memorial Golf Tournament. The 4th annual golf tournament will be held September 23 2011.
February 3rd 2009 Raphael Baldini was murdered in the Guildford parking lot. On Raphael Baldini's memorial page Jourdane Lal, sister of Mike and Corey Lal - two of the six victims in the terrible slaughter at the Balmoral Tower in October 2007 offered her condolences stating he was a family friend.
February 6, 2009 Kevin LeClair Kevin was shot at the IGA in Langley. He was a Bacon brother associate tied to Revolution Martial Arts. This was likely in retaliation for the Baldini shooting.
February 16 2009 Nicole Marie Alemy was murdered behind the wheel of he car with her four year old son in the car. Her car was sprayed with gunfire as she drove south on 148th Street near 96th Avenue about 10:30 a.m. on a Monday morning. Her husband had ties to the UN and she was a friend of Raphael Baldini. This was likely in retaliation for Kevin LeClair's murder. There were many other gang murders of individuals who sold crack. All these murders were about selling crack in Surrey and the Lower Mainland.
February 22 2009 Eileen Mohan and Steve Brown both spoke at a Surrey anti gang violence rally planned by two local youth after Nicole Alemy's violent murder.
April 2009 Jamie Bacon, Cody Haevischer, Matt Johnston, Mike Le and Dennis Karbovanec were charged in the Surrey Six murder along with a Person X. Later it was reported that Anton Hooites-Meursing who plead guilty to two counts of first-degree murder in another case was Person X and assisted with the Surrey Six investigation. In an in-depth interview with Kim Bolan, Anton claimed it was Eileen Mohan's public appeal for help with the investigation of her son's murder that inspired him to speak up. Dennis Karbovanec plead guilty while the rest stand trial.
June 2011 Four RCMP officers working on the Surrey Six murder case charged after one of them allegedly had an improper affair with a potential witness in the case.
June 2011 Two Hells Angels and a Throttle Locker were charged with beating a father to death in Kelowna with baseball bats and hammers.
August 13 2011 Kelowna shooting killed Jonathan Bacon, brother of Jamie Bacon charged in the Surrey Six murder. He was with Whiterock Hells angel Larry Amero who was wounded along with two other relatives and associated of the Haney Hells Angels and a member of the Independent Soldiers who was with the Bacon brothers in the Castle Fun Park meeting in kevlar .December 2006 prior to the Surrey Six murder. After Jonathan Bacon broke away from the UN, he was connected to a cross-border marijuana smuggling operation using helicopters, in which a young woman died in a crash. He was never charged. Who do you think he was involved with back then? This is not a new association. The Hells Angels have been the root cause of this gang war all along just like they were in Quebec.
Surrey Crime Prevention Meeting
Surrey's Social Problem